Bike Security/Alarm System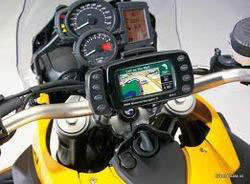 Specially designed for two-wheeler security, the RAIM Bike Security/alarm System has some outstanding features.
Once the system is activated (armed), it automatically cuts off the vehicle's ignition circuit and prevents engine from starting.
Extremely sensitive to the slightest movement, jerk or tampering, it instantly responds by setting off a loud siren.
The BLACKCAT System can also start the engine by Remote Control.
The Remote's operating range is 300 feet (max).
Both the Remote, and the Module are water resistant – a crucial advantage since two-wheelers are exposed to rain and other vagaries of the weather.
Features
Remote Arming/Disarming (range 300ft.max)
Silent Arming
Ignition Cut-Off
Remote Engine Starter
Alarm by Ignition
Bike Finder
Anti Hijacking
Impact Sensor
Sensitivity Adjustable by Remote
Arming Reminder
Panic
Overtaking warning
Speaking Function (optional)
Water Resistant Remotes & Module
Loud Siren
Code Learning
Power-off Memory
Bike Security/Alarm System is available in only 1,000/- Rs.