CCTV Camera System
Take the challenge out of securing your buildings, offices and homes with RAIM'S CCTV Surveillance System. A security system that offers internationally accredited, technologically advanced Cameras, Digital Video Recorders and Monitors.
The CCTV System serves as a most effective medium to detect early signs of danger and also provides you with the visual proof of a security breach.
Security is an aspect of concern for all to ensure protection of self and family members, property, offices, and livestock etc. Use of security cameras is considered as best way of deterring the criminals from causing harm to you or your property (even when you are thousands of kilometers away from your place), keeping away intruders and even for checking activities of your kids. You must have seen security cameras installed at vital installations like business houses, malls, banks etc.
Variants of Cameras: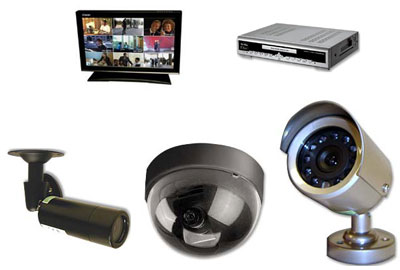 Dome Camera 2 MP @ 2500 Rs.
IR Dome Camera 2 MP @ 2800 Rs.
Vari - Focal Dome Camera
Vandal - Proof Dome Camera
Outdoor Speed Dome Camera @ 25000 Rs.
IR Bullet Camera
Box Camera
A digital video recorder (DVR) is a device that records video in a digital format to a disk drive or other memory medium within a device.
Variants of Digital Video Recorder:
4 Channel Network DVR AHD @ 6500 Rs.
8 Channel Network DVR AHD @ 9500 Rs.
16 Channel Network DVR AHD @ 16500 Rs.