Hightech Boundary Wall Alarm System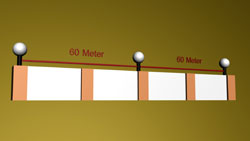 Red line is a laser beam that does not appear. On the evening after you turn the remote if someone crosses the boundary it will be turn siren. The boundary wall of a hi-tech security is a better alternative to a cross on it or it will break or cut wire.
Terms and Conditions
Within 20 days order goods will get to.
You will have to provide connection on the places of 230 voltas.
Guarantee that it will be a year.
Extra VAT tax.