Home Security System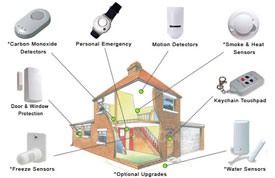 How important for you to have a look!
After the system on your house, a man tries to enter from anywhere then your outdoor lights will come on and the alarm sounded by up to 1 km around warn people.
Security system maximum 35 ft coverage area surround area.
Day and night are able to work successfully.
40 watts maximum power load is turned on.
This innovative discovery is only supposed to work on humans.
As well as giving you protection from thieves around to warn people.
With the coming into your budget - with life - Safety of important options.
Home Security Store caters to the do-it-yourself home or business owner who knows true safety: understanding and installing your own alarm system.
Home Security System is available in only 10,000/- Rs.
Extra attachment GSM Calling System 8,000/-Rs.